With over 80 years experience in manufacturing and providing Specialist Gears, we have built up an outstanding reputation for our quality products and services. We pride ourselves on standing fully equipped to provide you with first class manufacturing, technical and delivery services.
Our Products & Services
Welcome
We have just invested in several new machines to move our company forward. We are now able to offer "Super Finished" parts. We are also now running a Pfauter CNC Hobbing machine but the biggest step forward is that we are now running two brand new Hwacheon Vertical & horizontal Lathes with a capacity of up to 800mm.
Situated 1 minute off Junction 22 of the M1 Motorway we are ideally located for anyone in the East Midlands. Our services are not only available locally and nationally, but we now also offer an international service. We specialize in Gears for Vintage cars, Tractors and Trains, and provide the Power, Automotive and Industrial Industry with specialist gears such as that for motorsport.
We can produce 1 off prototypes and machine breakdowns to batch and volume production. We can, and have, on many occasions, supplied complete Casehardened / Ground and Lapped Spiral Bevel Gears in 3 to 5 working Days, ensuring that our customers are never left stranded without the gears they require.
Testimonials
A small company that delivers high quality products and excellent service. A pleasure to deal with you.

PC
Why Choose Us
We pride ourselves on our faultless customer service. Our friendly team of professionals are always happy to answer any questions. No order is too large or too small for Sovereign Gears to handle, as we guarantee to provide a first class service, for an outstanding price.
For more information on any of these services including Specialist Gears, Sprockets or CNC turning, please feel free to contact us on: 01530 249 090 OR E-mail us at: sovereigngears@btconnect.com
Industries We Serve

Automotive

Agricultural

Industrial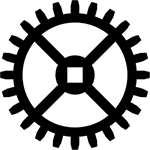 Vintage
Manufactured Gears For Vintage Cars Such As